Business Development manager, Chief Technology, Chief Operations Manager, Senior Business Analyst, Project Manager, Academic Director, Research Data scientist, Keynote Speaker, Author, Thought Leader.
University of Southern Queensland
RESEARCH DATA SCIENTIST- DOCTORATE: SUSTAINABLE BUSINESS INNOVATION STRATEGIES
THRIVE framework: worldwide assessment of the strong corporate sustainability performance of top 2000 enterprise business models.
Providence Solutions Corporation
CEO/CTO
Chief Executive/President for the group overseeing presence in
Australia, Philippines and Hong Kong with additionally operations in USA
and Switzerland.
Techmore/ Odyssey World Pty Ltd
MANAGING DIRECTOR
As founder and CEO, built Techmore Pty Ltd to become a top 10 ICT
company in Queensland with seven divisions ranging from hardware to
software, maintenance, rentals, publishing, training and internet.
Australian Computer Society
VICE CHAIRMAN
The ACS is the peak body for the ICT industry with over 37,000 members.
As executive of the board, I was the visionary, project manager and
systems architect for the ACS online collaborative eLearning platform
and chief spokesperson and trainer.
 PHD
Sustainable Business Innovation Strategies
TESOL
Professional Certificate
JUSTICE OF THE PEACE
Qualified
MASTER OF BUSINESS ADMINISTRATION
Tech Management
 GRADUATE DIPLOMA
Information Technology
CERTIFIED MEMBERS ACS
CMACS(Project Management
BACHELOR OF BUSINESS
Computing (Information Systems)
BACHELOR OF APPLIED SCIENCE
Mathematics (Statistics)
Assessing the sustainability performance of entities: a review and classification of tools, methods, and approaches
Authors: Morris Fedeli & Martin Glinik. Published at: New Business Model Conference, June 2021
The Classification of Sustainable Business Model Patterns using Machine Learning
5th International New Business Model Conference, July 2020
The challenges of transitions towards a more sustainable business
4th International New Business Model Conference, July 2019
Assessing the corporate sustainability performance of organizational business models
Journal of Accountancy & Business, September 2018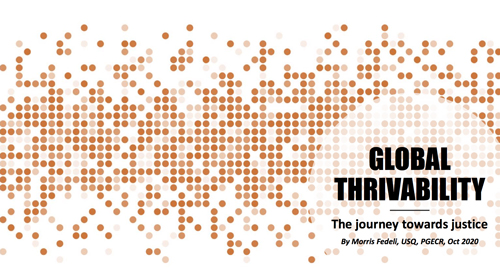 Global Thrivability: the journey towards justice for all humankind
Presented at PGECR, University of Southern Queensland, Australia, 1st October 2020
The THRIVE Platform – Measuring what matters most
A New Resource for Thresholds-Based Performance Assessment and Business Model Design. 7th International r3.0 Conference, September 2020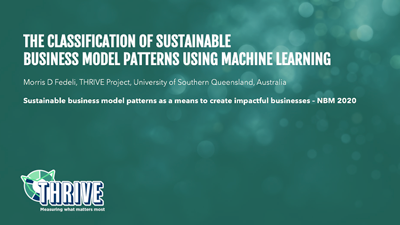 The Classification of Sustainable Business Model Patters using machine learning
Sustainable business model patterns as a means to create impactful businesses, July 2020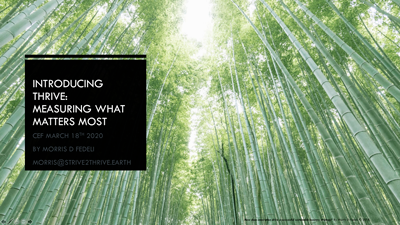 Introducing Thrive: Measuring what matters most
Presentation at the Circular Economy Forum, March 2020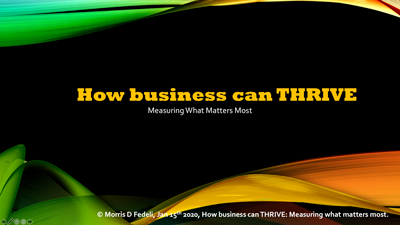 How Business can Thrive
Measuring What Matters Most, January 2020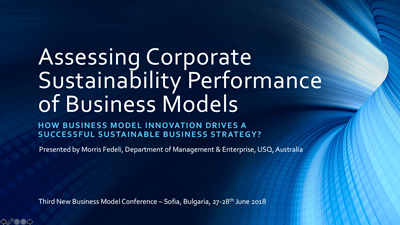 Assessing Corporate Sustainability Performance of Business Models
How business model innovation drives a successful sustainable strategy, June 2018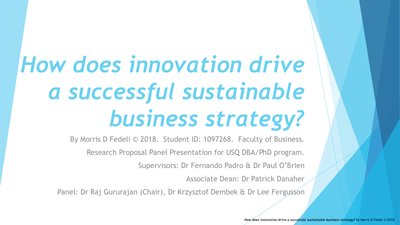 How does innovation drive a successful sustainable business strategy?
Research Proposal Panel Presentation for USQ DBA/PhD Program, March 2018.
2019

Flourishing Enterprise Institute Advisory Board Member
2018
r3.0 Academic Alliance Member
2017
Strongly Sustainable Business Model Group Member
Follow me on my social channels to stay updated with the latest news on emerging technology and business models.