Originally published on LinkedIn
For more than half a Millennium – since Franciscan friar, Luca Pacioli's publication of the first full account of double-entry bookkeeping in 1494 – business and investment have calculated value by focusing predominantly on a sole capital: financial. With such single-minded thinking, one could call this the era of mono-capitalism.
Precisely 500 years later, in 1994, John Elkington coined the term "Triple Bottom Line" (TBL) and expanded attention to the environmental and social impact of business, spurring the emergence of sustainability reporting which focuses thinking on the non-financial performance of companies.
From the sustainability perspective, we recognise the integral impact of the inter-relationship between the company and the context in which it operates in a world of complex supply chains and business relationships, profound technological change, and in recognition of societal 'mega-trends' and planetary boundaries.
We identify six capitals. Each presents risks and opportunities for business. Business and investors – and society at large – benefit by broadening the palette of value generation opportunities, enabling a more holistic understanding of how organizations can and will create value.
On the risk side, multi-capitalist thinking also opens decision-makers' eyes to often overlooked inter-capital impacts. Integrated multi-capitalist thinking brings benefits to business in terms of better understanding of value creation and provides a way of thinking that ensures both positive and negative impacts are understood in the context of value creation by the company.
The highest demonstration of this argument is shown at the heart of the UN Sustainable Development Goals, whose preamble underlines this thinking whereby each SDG is 'integral' to the other and whose Target 12.6 specifically calls for integration in reporting.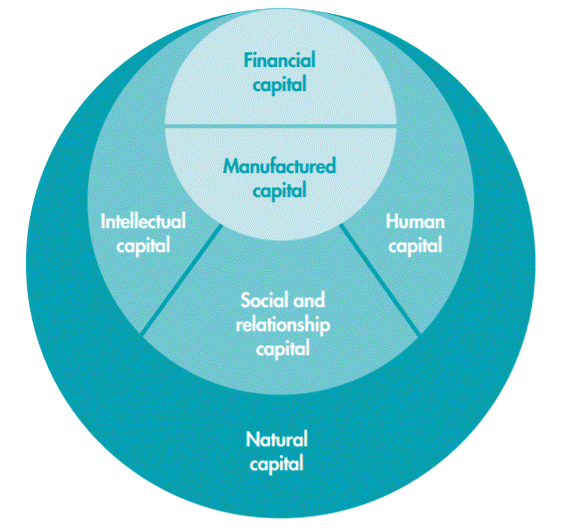 The Six Capitals Model from Forum for the Future.
http://www.forumforthefuture.org/project/five-capitals/overview
Shifting to multi-capitalist thinking requires an emphasis on integration in business models and thus strategy. Each capital needs to be measured in order to be effectively managed. This belies the need to measure what matters. Standards for measurement vary and therein lies some common concerns regarding the values-based approach. How do investors, business leaders and consumers navigating the world of reporting, assess the real impact on the capitals within context at an aggregate sector or regional meso level as well as at the micro business level?
Organizations such as Reporting 3.0 are working on this in terms of ecological ceilings and social foundations through the Global Thresholds and Allocations Council (GTAC). The World Benchmarking Alliance (WBA) is also developing targets on a sector by sector basis. These targets will serve as denominator values in THRIVE SPS assessments alongside actual performance as the numerator.
System value-creation requires a systems thinking approach, characterised as a shift from the concept of 'shareholder value' to one of 'shared value'. There is much merit in this approach, but also a necessary caution is understanding that unless information has investor confidence, it will never be fully embraced by capital markets. Aiming to make integrated reporting the global norm for mainstream corporate reporting, requires us to put it in the context of 'systems thinking' – not just for individual businesses but for global markets. Once again, it is multi-capitalism that fulfills the application of systems thinking to capital markets.
Thus systems thinking shifts the focus and ultimate purpose of business and finance to system value creation – which harmonizes financial value creation with the maintenance and enhancement of social and ecological systems in which the business and the economy operate. The shift from mono-capitalism to multi-capitalism heralds the maturation to an economic doctrine that is fit for managing 21st-century risks and opportunities. It is a new approach to enterprise risk, rolling up portfolio risk with systemic risk, thus generating positive value at the enterprise, portfolio, systemic, and existential levels.
The TBL was originally designed to provoke deeper thinking. Now, 25yrs and dozens of reporting schemes later, the need for an integrated, context, science and values-based reporting is truer than ever. Social businesses such as B corps currently numbering 2788 across 150 industries offers hope in this regard, although the aim is for all enterprises to provide integrated reports and act sustainably. The feeling is that although necessary change is happening, it is not at the scope, scale, and speed sufficient to effect radical innovation and seize the $12 trillion market opportunity at hand as forecast by the UN Sustainable Development Goals (SDGs).
Is the well-being of people and planet important to you?
Discover how THRIVE Platform can help you contribute to a prosperous future for all of humanity.