Originally posted on LinkedIn
Certainly times have changed – drastically. The sharing economy is vast, with different meanings to various consumers. You can now get an unsecured personal loan directly from your peers, share the same office space with dozens of different enterprises, and stay at a stranger's house instead of a hotel when you're traveling out of town – all coordinated within seconds with a few clicks. Soon you will be able to have your car automatically collect rides and earn you income during its off-times when not in use by you.
Welcome to the inherently disruptive sharing economy enabled by none other than communications and technology. Wherever and whenever there is a resource idle or underutilized therein lies an opportunity. In simple terms, the sharing economy allows people to exchange tangible and intangibles with one another at scale. It usually does so through an automated online platform, satisfying the wants of consumers by bringing them directly in contact with those providing the service.
By making it easier to exchange resources on-demand, the sharing economy – also known as collaborative consumption or peer-to-peer economy – increases efficiency. In many circumstances, it allows participants to get by without owning valuable items, such as cars or homes, while creating opportunities for others to extract value from idle possessions or talents. It encourages connections and innovation, with greater flexibility in work and life, providing multiple income streams with less investment and a lower barrier to entry.
Let's consider a few evolving industries and key players:
Shared transport: As of now there are a number of players in this market, including Lyft, Didi, Lime, Ola, Grab and of course the biggest of them all, fittingly named Uber. Though yet to turn a profit (and may never do so), it is the best known of the ridesharing providers with a huge amount of its costs attributed to drivers. This is however set to change as the next evolution is in autonomous driving coming by 2022.
Shared accommodation: The likes of Homeaway, Vrbo, and pioneers Couchsurfing and AirBnB have become part of the English lexicon. These are all ways to extract value from underutilized resources such as spare rooms or empty apartments whilst owners are away allowing them to generate extra income. Besides, sharing one's home with a traveler should be an illuminating experience.
Shared clothing: By 2050, an estimated 25% of carbon emissions will come from the clothing industry. Traders like Poshmark provide new or second-hand clothing for exchange between individuals. Other examples include Rent the Runway, Girls meet Dress and "Style Trial" by Westfield Shopping Center. This dovetails with the dormant goods economy where we are encouraged to reuse, re-purpose and recycle goods.
Co-working spaces: Designed, planned, organized working spaces by Wework, Techspace, Factory, GoWork, Spaces, Green Space and the list goes on. Adopting various business models these organizations are experiencing tremendous growth and fostering open collaboration among peers. Tack on outsourcing and you have the early workings of many startups.
Crowdfunding/online trading: Is largely driven by the "emergence of the Internet, ongoing innovation by startup companies, and increasing financial regulation of traditional banks" (The future of peer-to- peer finance). Many see the advantage of cutting out the middleman. This is also true for the airline industry, real estate agencies, and many franchised operations.
Peer-to-peer (P2P) commerce: In the goods and services market we know that referrals is the most effective form of advertising. The internet has made this process even less expensive. Rather than spend money on advertising, invest in encouraging friends, family, and colleagues to try it out and thus testimonials and feedback shared on products and services purchased play a big part in increasing revenue. Look no further than eBay, Craigslist, Amazon, Gumtree and so forth.
Telecommunications: Peer-to-peer sharing in the telecom space includes players like the wifi operator Fon. Many Telco's use collaboration and the business model of the sharing economy by offering an online eco-system for both customer acquisition and after-sale service and support.
Knowledge sharing: Online collaborative eLearning platforms or the knowledge sharing economy was one of the first industries to embrace the sharing economy; a space in which my company was a pioneer in Australia at the turn of the century. Key players now include Pearson (for whom I worked for in China), Alison, SuccessFactors and MindTools to name a few.
These companies – whilst not all profitable – have virtually appeared out of nowhere, accelerating at an astounding pace as if they have made it overnight. Consider a 2015 PwC's report which showed projections across five key sharing sectors—travel, car sharing, finance, staffing, and music and video streaming—together projected to increase global revenues to around $335 billion by 2025.
Given that the main premise of the sharing economy resides in the concept of sharing some sort of resource (thus reducing waste) and/or expertise, we see the key benefits being:
Convenience and reduced prices

Higher utilization and increased income

Greater opportunities for all involved

Fostering collaborative communities
Overall, the aim for enterprises is to supplement the "Buy" with a "Share" and "Service" with "Peer-to-Peer" transactions, during the customer journey. Thus, forthcoming challenges or issues, are privacy and safety, as there is less dependence or control and thus no guarantees when operating in the sharing economy, which is typically designed to disrupt and thus distort markets. However, we can all contribute to improving the industry by participating and collaborating in the sharing economy.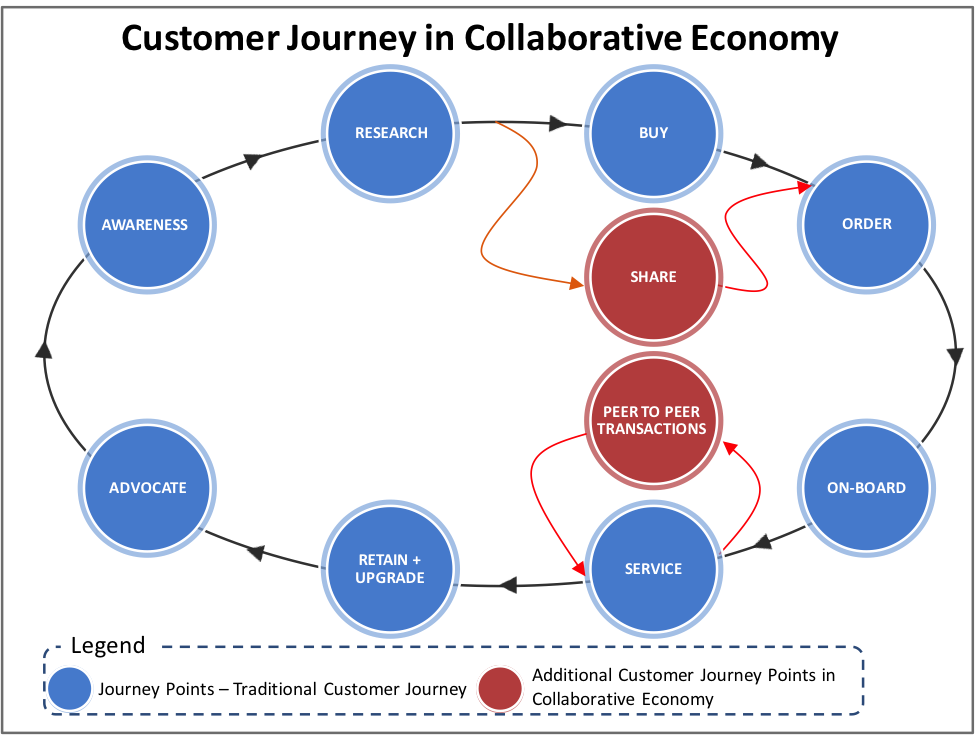 What all these businesses have in common is monetization of underutilized shared resources through a simple common platform placing the consumer in charge. But it does more than just that. It fosters a community, an ecosystem and encourages collaboration among us all. The latter is where I would hope our greatest strength as a community lies, and will be the topic of a future article. What other great business opportunity and collaborative shared resource you think ought to enter the sharing economy?
Is the well-being of people and planet important to you?
Discover how THRIVE Platform can help you contribute to a prosperous future for all of humanity.